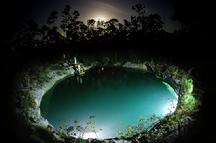 The moon rises over Sawmill Sink at night. Photo by Curt Bowen
The Sawmill Sink Project is a multi-disciplinary research project, funded by the Bahamas Antiquities, Monuments and Museums Corp. (AMMC) / National Museum of the Bahamas. In 2004, BCRF Director, Brian Kakuk discovered a single Tortoise shell and Crocodile skull on the peat covered talus mound of the sink hole. In the days that followed, Mrs. Nancy Albury, now the AMMC Abaco Branch Manger and Sawmill Sink Project Coordinator, contacted Dr. Keith Tinker, Director of the AMMC. In turn, Dr. Tinker invited experts from the University of Florida / Florida Natural History Museum as well as the Bahamas Department of Marine Resources, Water and Sewerage, and the Science Advisor to the Prime Minister of the Bahamas to attend a formal meeting on Abaco to discuss the uniqueness of the find and to determine if further investigations were warranted.

The preliminary meeting was met with great excitement from all involved and a decision was made to have one of the tortoise shells collected while the UF/FNHM team was on the island. When the first shell reached the surface, it was declared such a significant find, that Dr. Tinker allocated funds for formal excavations to begin. With the AMMC funding this project over the last four years, the team has collected, cataloged, preserved and dated what has been declared the most significant fossil find in the history of the West Indies. To date, our team has discovered forty five crocodiles, ten tortoises (new species), bats, birds, lizards, snakes and plant life that were living on Abaco more than 2000 years ago.